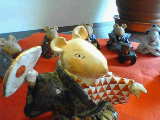 The Mouse Takes a Bride
Once upon a time there were two young mice who were
very much in love. They wanted nothing more than to be
married. But, unfortunately, the father of the girl mouse
- Who was the chief of their village - was a very pround and
stubborn fellow. He felt his daughter deserved a much better
husband than the pool little gray mouse she was in love with.
"I will give my daughter's hand to no one but Brother Sun,
for he is the most powerful being alive, " the chief declared.
And no matter how the young couple begged and pleaded, he
refused to consent to their marriage.
The boy mouse and girl mouse were sadly talking about
their problem when the oldest and wisest mouse of all
happened to pass by. Knowing how much in love the two
were, the wise old mouse decided to have a word with the
girl's father.
"Tell me, Chief, " he said. "Do you really think Brother
Sun is the most powerful of all beings ? What about Brother
Cloud ?"
"What do you mean ?"
"Why, just look up at the sky. Brother Cloud has overpowered
Brother Sun, and covered him right up !"
"By heaven, you're right. Very well, then, I shall give my
daughter's hand to Brother Cloud. "
"Brother Cloud ? Why, he's a weakling compared to Brother
Wind. Brother Wind can blow him away with a single breath. "
"That's true, too. So is Brother Wind can blow all he wants,
but he can't make Brother Wall budge an inch. Brother Wall's
much, much stronger. "
"All right, then, she shall marry Brother Wall !"
"Wait. Who is it that digs holes and tunnels in old Brother
Wall, and finally brings him tumbling down ? We mice, of course. "
The chief mouse was very impressed with the old one's reasoning.
"You know, I never thought of it that way. So we mice are really
the most powerful of all ! Very well, then, it's decided. My daughter
shall marry the strongest of all mice !"
Now, there was another young mouse, a big, muscle-bound fellow,
who was far and away the strongest of all. As soon as he heard what
the chief had said, he announced that he was claiming the bride as
his own.
No one was foolish enough to dispute his claim - except for one
whose love for the girl was so strong that he simply couldn't sit back
and let her slip away.
"She's mine, " said the little gray mouse. "I love her, and she loves me,
and nothing can come between us !"
The big, strong mouse could scarcely belive it when this little fellow
challenged him to a fight, right in front of all the others.
"Ha !" he said. " I'll pound you into the ground !"
No sooner had the little gray mouse pounced upon his rival than
he was sent flying. The crowd let out a gasp.
"Had enough ?" said the muscular mouse.
"Never !" shouted the little gray. He picked himself up off the ground
and charged again.
And once again the bigger mouse easily tossed him aside.
Again and again the little gray mouse was thrown to the ground.
And again and agein he got back up, dusted himself off, and attacked
once more.
"Haven't you had enough yet ? Give up !"
"Never !"
Before very long the little gray mouse was covered with bumps
and bruises and cuts and scrapes, yet still he kept on fighting.
At last the big muscle-bound mouse had had enough.
"All right, you win !" he cried. "I'm no match for the power of true love !
The girl is yours. "
The girl mouse cried for joy, And her father was so impressed with the
little gray mouse's dedication and perseverance that he gave his wholehearted
consent to the marriage.
"True love, " he said, "is more powerful than walls, more powerful than the
wind, more powerful than clouds, more powerful than the sun !
The little gray mouse shall wed my daughter !"
And so he did, and they both lived happily ever after.
End